Today, Nov. 14, 2013, the United States Mint released Ida McKinley First Spouse Gold Coins, the first of five 2013-dated strikes featuring former First Ladies.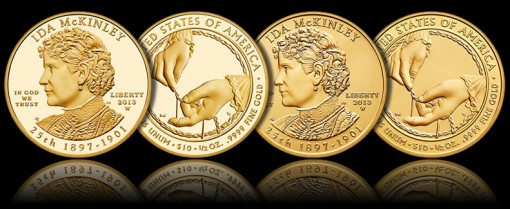 These $10 coins, produced at the West Point Mint, are struck from one-half ounce of 99.99% pure gold and are available in both proof and uncirculated qualities.
Designs on the release celebrate Ida McKinley, wife of the 25th President of the United States, William McKinley. They mark a continuation of the First Spouse Gold Coin Program which debuted in 2007 and honors the spouses of former Presidents.
This year the gold coin series includes a total of five designs. Their release was delayed as the United States Mint battled a production problem known as "finning," leaving precious little time to get the coins out. Subsequent 2013 First Spouse Gold Coins will honor:
Edith Roosevelt (release date of Nov. 21)
Helen Taft (release date of Dec. 2)
Ellen Wilson (release date to be determined)
Edith Wilson (release date to be determined)
See the 2013 First Spouse coin designs.
Similar delays occurred in the program last year as the first of four 2012-dated coins did not make an appearance until Oct. 11. Normally, the series' first issue is released early in the year with later strikes appearing in two to three month intervals.
Designs of Ida McKinley First Spouse Gold Coins
Obverses of the new gold coins feature a portrait of Ida McKinley, as designed by Susan Gamble and sculpted by Phebe Hemphill.
Surrounding the portrait are the inscriptions of IDA McKINLEY, IN GOD WE TRUST, LIBERTY, 2013 and an inscription for her service 25th 1897-1901. Artist's initials and the West Point "W' mint mark are also presented.
Designed by Donna Weaver with sculpting by Renata Gordon, reverses include a design emblematic of the life of Ida. It depicts two hands crocheting. Ida crocheted thousands of slippers for charity.
Inscriptions on the reverse include UNITED STATES OF AMERICA, E PLURIBUS UNUM, $10 and 1/2 OZ. 9999 FINE GOLD.
See polishing of Ida proof die.
Prices, Mintages and Ordering
Pricing of Ida McKinley First Spouse Gold Coins opens at $840.00 for the proof version and $820.00 for the uncirculated version. These are the same price points used for the still available First Spouse Gold Coins from last year, but this pricing is subject to change weekly based on market conditions. In response to declining gold, prices most recently were reduced by $25 per coin on Wednesday, Nov. 13, 2013.
The maximum mintage is 10,000 across all product options, with the ratio of proof to uncirculated coins determined by customer demand. Of note, the amount is 3,000 less than the announced mintages for last year's coins and 5,000 less than the coins from 2011.
Orders for Ida McKinley First Spouse Gold Coins may be made directly from the U.S. Mint on its online page located here. Orders are also accepted by telephone at 1-800-USA-MINT (872-6468).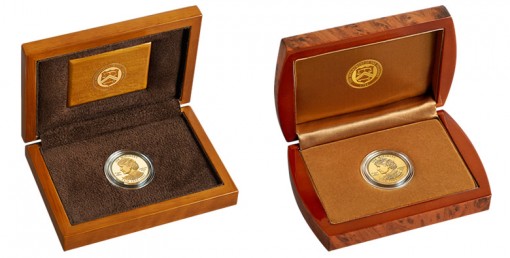 Each coin is encapsulated and presented in a lacquered hardwood display case. A Certificate of Authenticity is also included.
Ida McKinley Bronze Medals
Along with the gold coins, the United States Mint strikes and releases bronze medal replicas. The medal will be available as part of the William McKinley $1 Coin & First Spouse Medal Set™, which is scheduled for release on Nov. 19.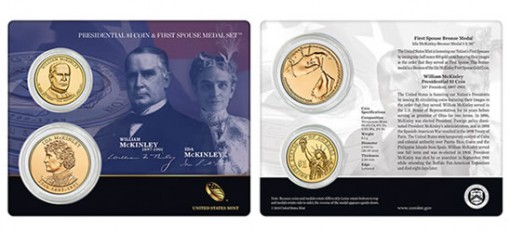 This set includes one William McKinley $1 Presidential Coin and one Ida McKinley bronze medal. The coin and medal are attached to a durable plastic card and will be sold for $9.95.
About Ida McKinley
Ida Saxton was born on June 8, 1847 and married William McKinley on January 25, 1871. William would eventually be elected the 25th President of the United States and the two would serve in the White House from March 4, 1897 through September 14, 1901.
She suffered from epilepsy and was unable to perform many of the hostess duties normally associated with the First Lady. Her illness did not prevent her from her love of crocheting, however, and she was able to make slippers for charity.