There appears a strong possibility that the United States Mint could temporarily suspend some of its silver products for collectors and eventually raise their prices.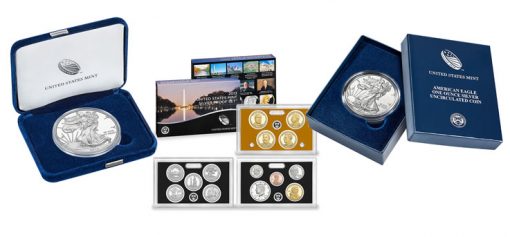 There is no set formula published by the U.S. Mint that offers collectors a look into how it prices its numismatic silver products or when those prices will change — unlike its guide for numismatic gold and platinum coins.
In the past when the market value of silver has changed significantly, the U.S. Mint has tended to freeze ordering on certain silver coins and silver sets, publish new prices on the Federal Register and then adjust prices on the products and re-enable ordering. This process can take days to weeks.
The U.S. Mint last brought prices down on nine silver products on July 11, 2013. Precipitating the change was when silver in late June plummeted several percentage points to $18.67 an ounce which was its lowest level since August 2010.
Silver has been on a tear this week. The U.S. Mint tends to watch London precious metals fixings. The London silver Fix ended July at $19.94 an ounce. The latest fixing today is $22.83, which is $2.89, or 14.5% higher. For the week alone, it has jumped $2.52, or 12.4%. Further, the precious metal is continuing to gain with its spot price at $23.27 an ounce as of this writing. This is near or nearing the level that could trigger the events described above.
Silver coins likely to get caught up in a pricing event are the same ones that were most recently reduced. Namely, any products with uncirculated or proof 2013 American Silver Eagles, the 2013 Silver Proof Set, the 2012-2013 America the Beautiful Silver Proof Sets and all the America the Beautiful Five Ounce Silver Uncirculated Coins.
This article will get updated if any news breaks on silver products.