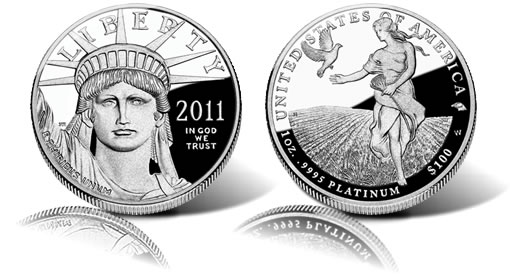 Earlier Wednesday, May 30, 2012, the United States Mint reduced the price of its 2011-W Proof American Platinum Eagle in response to a sustained loss in the market value of platinum.
Dropping for the second time in May by an amount of $100, the Platinum Eagle went from a price of $1,792.00 to $1,692.00. It is the lowest pricing for the 2011-dated American Eagle since December, and marks a $400 difference from when it was released a bit more than one year ago.
14,163 have sold as of Monday, May 28, 2012, leaving 837 left from the maximum declared mintage of 15,000. Only 8 more had been ordered last week, according to U.S. Mint figures. Previous U.S. Mint weekly sales had them up 29.
The coin's price was also moved lower exactly three weeks ago, on May 9, 2012. Its current pricing is based on a weekly average of platinum which falls between $1,350.00 and $1,449.99 an ounce. That average was calculated using London fixings for the precious metal from last Thursday AM to the current Wednesday AM. Its London Fix price was last at $1,410.00 an ounce, marking a contrasting change from the fixing of $1,779.00 an ounce when the coin launched on May 26, 2011.
Composed of 99.95% fine platinum, the proof's next earliest possible price adjustment could occur on June 6, 2012.
2011-W Proof American Platinum Eagles may be purchased directly from the United States Mint webpage located here, or by calling 1-800-USA-MINT (872-6468). There are no household ordering limits in place.
When the 2012-W Proof American Platinum Eagle will be available is still unknown, as the U.S. Mint is yet to announce its release date.