In a span of less than two weeks, Canada announced the elimination of its penny and the Royal Canadian Mint released newly modernized $1 and $2 coins.
On March 29, 2012, the Canadian government said it will eliminate the penny with Canadian Finance Minister Jim Flaherty explaining "It's a currency without currency." Included as part of Canada's Economic Action Plan 2012, production on the one-cent coin by the Royal Canadian Mint will stop this month.
Distribution of the lowest denomination coin will continue until fall 2012. After that, commerce transactions using cash will either need to be rounded up or down depending on their total.
The elimination of the penny is expected to save the Canadian government an estimated $11 million a year. That is because the coin costs the government more to produce than it is worth, with recent figures showing the penny taking 1.6 cents to produce.
"We will eliminate the penny," stated Canadian Finance Minister Jim Flaherty in his 2012 federal budget speech. "Pennies take up too much space on our dressers at home. They take up far too much time for small businesses trying to grow and create jobs. It costs taxpayers a penny-and-a-half every time we make one. We will, therefore, stop making them. Canadians might wonder why this was not done earlier."
This move is not a unique one for a government to make. Australia, Norway, Switzerland and the United Kingdom have all either completed the transition away from the cent or are in the process.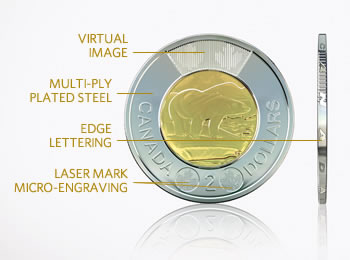 In the United States, the idea has been floated several times in the past and is likely to appear again. The cost of the one-cent coin is higher in the U.S. with the 2011 United States Mint Annual Report stating it took 2.41 cents to produce each one last year.
A majority of that cost can directly be attributed to higher prices for the zinc and copper used to strike each coin. However, the Mint also points out that production was down due to lower demand.
The cent will remain as the smallest unit for pricing goods and service in Canada. However once distribution of the coin ends, consumers and businesses will need to adjust their practices. Those wishing to use the coins for purchases will still be able to do so, but cash transactions will typically be rounded up or down after the phase-out of the cent.
Transaction totals ending in 1, 2, 6 or 7 cents will be rounded down to the nearest five-cent increment. Those transactions resulting in a total of 3, 4, 8 or 9 cents will be rounded up. Non-cash transactions such as debit and credit card use will not be affected by the change with those totals remaining as they are with no-rounding.
As for new $1 and $2 coins, the Royal Canadian Mint on Tuesday, April 10, released the following press release.
New Canadian $1 Loonie and $2 Toonie Coins
The Royal Canadian Mint is pleased to announce that a new generation of one-dollar and two-dollar circulation coins, which incorporate advanced security features and are manufactured with the Mint's patented multi-ply plated steel technology begins circulating today.
More cost-effective than their predecessors and unprecedented in their security, these new coins retain the "Common Loon" and "Polar Bear" designs and physical appearance familiar to millions of Canadian consumers and businesses. Existing one-dollar and two-dollar coins remain legal tender and will continue to circulate alongside this new generation of circulation coins.
"As an industry leader and innovator focused on delivering the best quality and value to its customers, the Mint is pleased to have produced a new generation of one-dollar and two-dollar circulation coins which set new standards in cost-effectiveness, durability and security," said Ian E. Bennett, President and CEO of the Royal Canadian Mint.

"By combining the Mint's patented multi-ply plated steel technology and sophisticated security features never before seen on Canadian coinage, our new high-denomination circulation coins reinforce the modern and innovative reputation of Canada's currency system."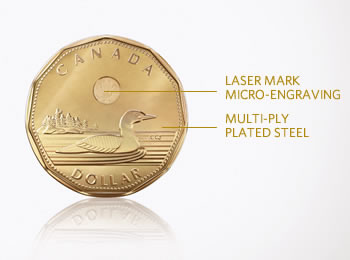 The new one-dollar and two-dollar coins are manufactured at the Mint's facility in Winnipeg, Manitoba using the same patented multi-ply plated steel (MPPS) technology from which Canada's lower denomination circulation coins have been made since 2001. This proven technology, by which a steel core is plated with alternating layers of different metals such as copper, nickel and brass, employs far less metals than alloy coins and produces highly cost-effective circulation coins.
The Mint's ability to control the plating thickness of each metal layer also provides greater flexibility in controlling electromagnetic signatures. This makes the security of MPPS coins superior to non-plated alloy coins of the same dimensions. Thanks to the superior advantages of its patented technology, the Mint's Winnipeg facility has been producing MPPS circulation coins for a growing list of international customers looking for the best combination of cost-effectiveness, quality and security.
The next generation of one-dollar and two-dollar circulation coins also incorporates new, visible security features which further enhance the security and integrity of Canada's coinage system. The reverse (or tails side) of both coins features a laser mark  micro-engraving, and the two-dollar coin also contains a virtual image and edge-lettering. With the exception of these additional security features, the new coins will have the same diameter and thickness as the current coins.
These changes to the one-dollar and two-dollar circulation coins, which support the effort to modernize Canada's currency system, are permanent. The new coins will soon appear in general circulation and will be available through daily business transactions across Canada. All previous versions of the one-dollar and two-dollar circulation coins issued since 1987 and 1996, respectively, remain legal tender and will continue to circulate as usual.
Learn more at: http://www.mint.ca/store/mint/learn/new-1-and-2-6800002
About the Royal Canadian Mint
The Royal Canadian Mint is the Crown Corporation responsible for the minting and distribution of Canada's circulation coins. An ISO 9001-2008 certified company, the Mint is recognized as one of the largest and most versatile mints in the world, offering a wide range of specialized, high quality coinage products and related services on an international scale. For more information on the Mint, its products and services, visit www.mint.ca.