The magnificent 1829 $5 Large Date Half Eagle PR64 PCGS, CAC, Ex: Garrett is the centerpiece offering of the unmatched Harvey B. Jacobson, Jr. Collection of 1820s era Half Eagles, presented by Heritage Auctions as part of its Thursday, Jan. 5 Platinum Night event during the Jan. 3-8 U.S. Coins & Platinum Night FUN Signature® Auction, in Orlando, FL.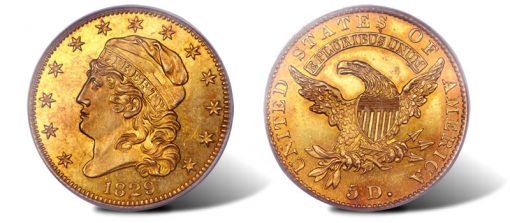 "This is the first Large Diameter Capped Bust half eagle certified as a proof by a major grading service," said Greg Rohan, President of Heritage Auctions. "Both PCGS and CAC have agreed on this coin's proof status and a grade of PR64. Any Large Date, Large Diameter 1829 half eagle is an extreme rarity — our catalogers have traced just seven distinct specimens — so this coin's status as a proof or special striking makes it even more important."
While just those seven mentioned above are known today, U.S. Mint records claim that 57,442 examples of the 1829 half eagle were struck. These coins, including the Large Date and Small Date varieties, became important collectibles early on, known as important rarities since the 1860s.
"Proof coins made by the U.S. prior to 1858 are rare, especially those struck before the Mint adopted steam press technology in the mid-1830s," said Mark Borckardt, Senior Cataloger at Heritage. "Many scholars have debated what makes an early coin a true proof. In fact, this 1829 Large Date half eagle was called a Mint State coin, not a proof, when it was offered as part of the famous Garrett Collection in the 1970s."
Only 11 proof Large Diameter half eagles exist in total, including three coins that show a proof surface on only one side. Four of those coins are in the National Numismatic Collection in the Smithsonian Institution, and four more are in the Harry W. Bass, Jr. Core Collection on display at the American Numismatic Association's museum in Colorado. Only three true proofs are believed to be in private hands, and this is the only one whose current whereabouts are known.
The 1829 $5 is by no means the only treasure in the Harvey B. Jacobson, Jr. Collection. A Choice 1828/7 Half Eagle MS64 NGC, the finest of just five or six examples known, Ex: Byron Reed/Suros, and a legendary rarity in the U.S. gold series, is already creating significant buzz within the hobby.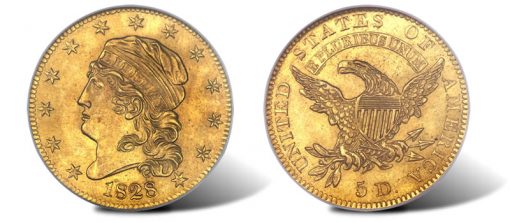 "This coin has been off the market for more than 12 years," said Rohan. "This is the finest-known example of this remarkable issue. The 1828/7 was missing from such great collections as Garrett, Norweb, and Pittman and some of the greatest coin dealers in history — including B. Max Mehl and Abe Kosoff — never had the chance to catalog this coin."
Further highlights of The Harvey B. Jacobson, Jr. Collection include many coins that would be the centerpiece of most any other numismatic auction.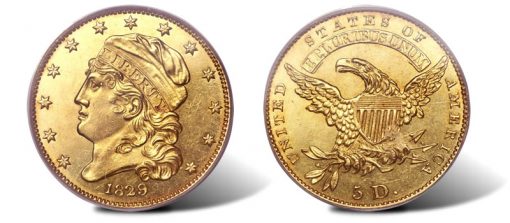 A few examples of these include — though the highlights are by no means limited to — an 1829 $5 Small Date MS61 PCGS, CAC, Ex: Harry Bass, a classic gold rarity with Prooflike surfaces, a Choice 1828 $5 MS64 PCGS, CAC, the second finest known of the BD-4 variety, and a Select Mint State 1824 $5 MS63 PCGS, CAC, another important rarity in the series, and perhaps one o f its most underappreciated.
"There are few American gold coins more sought after than those issues of the 1820s," said Rohan, "which are in abundance here. A grouping of these coins, with such depth and rarity, is not likely to come along again anytime soon if history is any teacher. We expect top collectors are going to be out and ready to bid when these coins come across the block during Platinum Night at FUN."
About Heritage Auctions
Heritage Auctions, headed by Steve Ivy, Jim Halperin and Greg Rohan, is the world's third largest auction house, with annual sales more than $600 million, and 500,000+ online bidder members. For more information about Heritage Auctions, and to join and gain access to a complete record of prices realized, along with full-color, enlargeable photos of each lot, please visit HA.com.