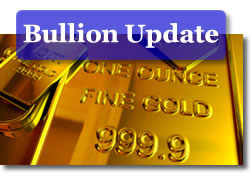 Gold declined slightly Tuesday, registering a second straight day of losses. Prices, however, recovered sharply from earlier lows. Markets were jittery following S&P's threat to expand credit downgrades to 15 European Union countries. Technical selling also pressured the yellow metal, according to some analysts.
"Technically, the longer-term charts have been favoring the bears. Consolidation looks to be the mode with last week's range of $1,700-$1,760 as the boundaries," Reuters quoted Carlos Perez-Santalla, precious metals broker of PVM Futures Inc. "End-of-year trading mode may be at play as many traders are looking to hold on to what gains they have for the year."
Gold prices shed $2.70, or 0.2 percent, to $1,731.80 an ounce in the February futures contract on the Comex in New York. Gold moved through a $1,705.70 to $1,734.00 range.
Silver prices for March delivery added 37.2 cents, or 1.1 percent, to close at $32.744 an ounce. Silver touched an intraday low of $31.650 and reached a high of $32.900.
Platinum prices for January delivery retreated $8.50, or 0.6 percent, to $1,524.00 an ounce, trading from $1,500.60 to $1,528.00.
Palladium gained again Tuesday, extending its winning streak to seven straight sessions. Palladium prices for March delivery soared $24.40, or 3.8 percent, to $670.90 an ounce, ranging between $630.05 and $673.65. Since November 25, palladium prices have rallied $100.80, or 17.7 percent. Jon Nadler, Senior Analyst of Kitco Metal Inc. wrote of the metal on Monday:
"The noble metal turned in its best performance since December of 2010, in large part due to fears that supplies of it will be adversely impacted by dwindling state-owned inventories in Russia. The country has been the biggest supplier of palladium up to now. Sales from state stockpiles in Russia, (the levels of which are a government secret), will probably total 750,000 ounces this year, according to refiner Johnson Matthey's report issued last month.

Russia now plans to export only about 144,000 ounces in 2012 and perhaps the same amount in 2013. Meanwhile, "Norilsk Nickel, which is the largest palladium producer, will trim sales from its inventory in the next two years before ending them altogether in 2014," noted the International Business Times, citing Anton Berlin, a company executive, at a conference in New York last week.

Mr. Berlin also stated that roughly and only 14 percent of palladium production and 8 percent of platinum output is accumulated as investment, compared with 35 percent for gold. This, while the existing platinum stockpiles are enough to meet demand for only seven months, and palladium supplies are sufficient for 16 months. Compare those figures with the estimate that we are blessed with 22 years' worth of supplies for gold based on current demand levels. "Gold shortage" yeah, right. Ditto with 'shortages' in silver. Not there.

For real shortages, look no further than palladium. Norilsk Nickel expects the metal to be in a deficit in 2012 once again, due to those sharply curtailed Russian supplies. Moreover, global mine output of palladium has slowed significantly due to rising production costs and insufficient mining capacity. Analysts at Standard Bank (SA) have pegged prices near $500 to present difficulties for producers of the metal and prices under $600 to offer support to the market. GFMS Thomson-Reuters anticipates palladium to average $750 to $800 per ounce in the coming year."
London Precious Metals
Earlier fixing prices for London precious metals declined. When comparing London fixings on Tuesday (PM) from those on Monday (PM), gold stepped back $36.00 to $1,708.00 an ounce, silver dropped 63.0 cents to $31.85 an ounce, platinum prices lost $29.00 to $1,505.00 an ounce and palladium declined $4.00 to $638.00 an ounce.
U.S. Mint Bullion Coin Weekly Sales
Buyers grabbed more one-ounce gold bullion coins from the U.S. Mint Tuesday. Sales of the biggest Gold Eagle advanced 5,500 after gaining 7,000 during the previous day. The Gold Buffalo added another 1,000 following its increase of 6,000 on Monday. The latest daily, monthly, and year-to-date U.S. Mint bullion coin sales follow:
Sales of U.S. Mint American Eagle and Buffalo Bullion Coins
Daily Gains
December Gains
YTD 2011
American Gold Eagle Coin (1 oz.)
5,500
12,500
857,000
American Gold Eagle Coin (1/2 oz.)
0
0
65,000
American Gold Eagle Coin (1/4 oz.)
0
0
82,000
American Gold Eagle Coin (1/10 oz.)
0
0
370,000
American Gold Buffalo Coin (1 oz.)
1,000
7,000
160,500
American Silver Eagle (1 oz.)
0
806,000
38,665,500
Sales of America the Beautiful 5 Oz. Silver Bullion Coins*
Gains Over Last Week
YTD 2011
Gettysburg National Military Park 5 oz. Silver Coin
n/a – sold out
126,700
Glacier National Park 5 oz. Silver Coin
n/a – sold out
126,700
Olympic National Park 5 oz. Silver Coin
0
83,300
Vicksburg National Military Park 5 oz. Silver Coin
300
32,500
Chickasaw Park 5 oz. Silver Coin
300
24,700
TOTAL
600
393,900
*The United States Mint does not provide daily sales figures for its 5-ounce silver coins. The sales are current as of Monday, December 5, 2011.