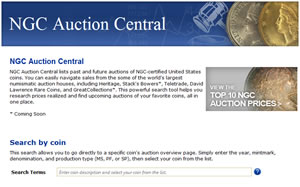 Numismatic Guaranty Corporation announced a new resource tool for past and future auctions of NGC-certified US coins. Named "NGC Auction Central," the resource offers a centralized location to find realized coin prices and upcoming coin offerings from leading auction houses around the U.S. The search tool is available directly at http://www.ngccoin.com/AuctionCentral/NGC-Auction-Central.aspx.
The following is the statement released Monday, October 3, by Numismatic Guaranty Corporation. It is published in its entirety.
Numismatic Guaranty Corporation (NGC) announced the release of NGC Auction Central — a new resource that maintains auction data for NGC-certified US coins from prominent auction houses including Heritage, Stack's Bowers, Teletrade, David Lawrence Rare Coins, and Great Collections. With this exciting new feature, both upcoming auctions and prices realized information are available, and advanced filters allow users to sort the auction data by attributes such as grade, price, date, and auction house.
"A coin auction feature, including complete listings and prices realized, was an aspect of our website that we were intent on improving," said NGC CEO Steve Eichenbaum. "With the addition of this feature there is no need for a collector or dealer to go anywhere else. We have all the information they could be looking for in one place."
Other features include volume charts that are adjustable by time for all series and for individual coins, as well as some basic performance history, such as average grade and price for each coin. Thumbnail images will also be provided for coins when they are available. Searches for auction data may be conducted as part of the new NGC Coin Explorer or through this separate, stand-alone feature. New coins and updated prices realized will be posted as soon as an auction goes live or ends.
The new NGC Auction Central complements the widely praised NGC Coin Explorer, NGC US Coin Price Guide and NGC World Coin Price Guide supplying everything the numismatic community needs in one place and solidifying the NGC website as the number one resource for research tools.
About NGC
NGC, the world's largest and most respected third-party coin grading service, was founded in 1987. From the beginning, NGC has committed itself to developing an impartial, trusted standard of consistent and accurate grading. To uphold this commitment, NGC's full-time grading experts are no longer active in the commercial coin marketplace, and are prohibited from buying or selling coins to ensure impartiality. As NGC has grown to become the leader in third-party grading services, we have maintained a steadfast and uncompromising commitment to this standard.