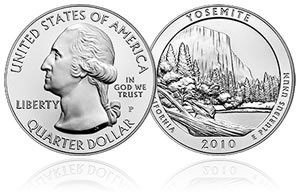 The United States Mint this week confirmed that it will make the Yosemite National Park 5 Oz Silver Uncirculated Coin available on Thursday, June 9, 2011.
The three-inch diameter, .999 fine silver collector coin had been listed in the Mint's June schedule for an expected release on the 9th, but its launch was set in stone and release details affirmed in a media statement the bureau issued Thursday.
The United States Mint will release up to 27,000 Yosemite silver coins beginning on June 9 at noon ET. Unless silver's direction changes radically in the next few days, it will go on sale at $279.95.
"The 2010 America the Beautiful Five Ounce Silver Uncirculated Coin — Yosemite National Park is currently priced at $279.95," per the Mint's media statement. "As with all products sold by the United States Mint containing precious metals, pricing is subject to change."
Price and mintage levels remain the same as the first two issues in the series, the first Hot Springs National Park 5 Oz Silver Uncirculated Coin and the second Yellowstone National Park 5 Oz Silver Uncirculated Coin. Buyers eagerly sought out both of these coins as their sell outs occurred within weeks. Arkansas's Hot Springs coin was made available on April 28 and sold out May 13. Wyoming's Yellowstone coin was made available on May 17 and sold out on June 1.
Yosemite Coin Design
Designs for the Yosemite National Park 5 Oz Silver Uncirculated Coin are the same as the five-ounce bullion version minted for investors (which sold out last year), and that of the circulating Yosemite National Park America the Beautiful Quarter.
The obverse features the familiar portrait of George Washington. The reverse, by Joseph Menna, depicts the scenery of El Capitan. Inscriptions include YOSEMITE, CALIFORNIA, 2010 and E PLURIBUS UNUM.
As a collector piece, the Yosemite silver coin bears a Philadelphia "P" mint mark. The bullion version of the coin was minted in Philadelphia as well but does not have the denoting mint mark.
Five-ounce coins have an edge inscription of .999 FINE SILVER 5.0 OUNCE. Quarters have a reeded edge.
Order Details for Yosemite Uncirculated Coin
When available, the Yosemite National Park 5 Oz Silver Uncirculated Coin may be purchased directly from the United States Mint website at http://www.usmint.gov or by calling its toll free number 1-800-USA-MINT (872-6468). There is a limit of one coin per household. A shipping and handling fee of $4.95 will be charged for all domestic orders.
The Yosemite uncirculated coin comes enclosed in a capsule to protect its finish. The capsule is placed within a protective outer box and accompanied by a Certificate of Authenticity.
Additional 2010-dated five-ounce coins will become available later this year. They include coins honoring Grand Canyon National Park in Arizona and Mount Hood National Forest in Oregon. Check out this site's National Park Silver Coins page for information on each of the 2010 and 2011 five ounce issues.