The United States Mint on Monday placed two more of its silver products on hold as silver prices continued to spike into fresh ranges of 31-year highs. Four silver products are now described on the US Mint website as "temporarily unavailable."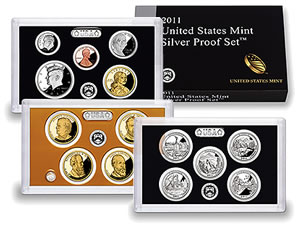 This is the third round of suspensions since last month. The previous case occurred during the first week of April and paused the sale of last year's Silver Proof Set and America the Beautiful Quarters Silver Proof Set when the precious metal rallied over $40 an ounce.
The latest round added the 2011 versions of the same sets as silver prices topped $43 an ounce. In early March, the US Mint placed a hold on the 2010 sets for the first time when silver was toward $36 an ounce. In that instance, the silver products returned with higher prices about a week and a half later.
The US Mint currently has a pricing policy in place for its numismatic gold coins. Based on it and the prevailing cost of gold, the US Mint may adjust collector gold coin prices weekly. It does not have a similar pricing system in place for its numismatic silver products. When the US Mint reviews what to charge, it evaluates prices based on the value of silver content with each.
"Recently, the market price of silver has risen substantially. As a result, the United States Mint is reviewing the prices of current products containing silver to make sure the market value of the silver contained in them is not now higher than the cost of the products themselves," US Mint spokesman Michael White said on March 7 in response to inquiries regarding the unavailable silver products.
The repricing process can take several days. Immediately prior to products reappearing for sale, the US Mint tends to post a notice on the Federal Register, which is an official daily publication for rules, proposed rules, and notices of Federal agencies and organizations. Given how quickly precious metals prices have moved in recent weeks, the Mint may be hesitant to make the silver products available until a leveling occurs with the precious metal.
As of this writing, spot silver prices have shot up to $43.64 an ounce. The following table provides the pricing for each of the silver products at the time of their suspensions, their melt values (based on $43.64 an ounce), and their latest US Mint sales figures as of Sunday, April 17.
| | | | | |
| --- | --- | --- | --- | --- |
| | Price | Melt Value | Difference | Latest Sales |
| 2011 Silver Proof Set | $67.95 | $58.40 | $9.55 | 384,124 |
| 2010 Silver Proof Set | $64.95 | $58.40 | $6.55 | 561,472 |
| 2011 America the Beautiful Quarters Silver Proof Set™ | $41.95 | $39.46 | $2.49 | TBD* |
| 2010 America the Beautiful Quarters Silver Proof Set™ | $39.95 | $39.46 | $0.49 | 250,403 |
The US Mint released the America the Beautiful Quarters Set on April 1, 2011, but it has not yet published any sales figures for it.