The United States Mint on Thursday, March 31, 2011, made available the Andrew Johnson Presidential $1 Coin Cover for a price of $19.95.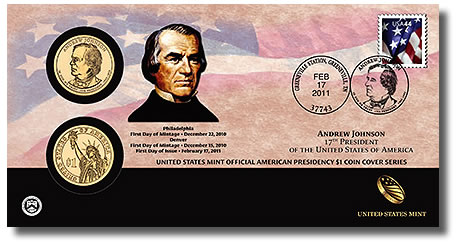 The 22,000 limited-edition product is the first of four 2011 issues in the American Presidency $1 Coin Cover Series and the seventeenth since the covers were introduced for the Presidents in 2007. The covers were priced $4 less in 2010 and $5 lower between 2007 and 2009. Production limits have been fluid, generally declining as the Presidential Coin Cover series gets older and prices get higher. 2007 and 2008 marked the upper end with limits of 50,000. 2009 retreated to 40,000 and 2010 fell to 32,000 units — although the Abraham Lincoln Coin Cover went up to 37,000 with expectations of increased demand.
Each coin cover features two Andrew Johnson Presidential dollars. One coin is minted from Philadelphia and the other from the Denver Mint. Both are pulled from first day production inventories, which is December 15, 2010 for the Denver $1 and December 22, 2010 for the Philadelphia $1.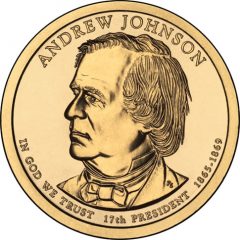 Both coins are framed within a display card featuring a portrait of the President. The card also includes a 44-cent Flag postage stamp with a postmark of February 17, 2011, Greeneville, TN. That is the date the dollars were released into circulation. The US Mint began offering $25 dollar rolls of the Andrew Johnson $1's on February 23, 2011.
The obverse or heads side of the $1, designed and sculpted by Don Everhart, features a portrait of Johnson and the inscriptions "ANDREW JOHNSON," "IN GOD WE TRUST," "17TH PRESIDENT" and "1865-1869."
Andrew Johnson: 17th President, 17th in Presidential $1 Coin Series
The following is a brief biography of Johnson, as provided by the US Mint through its website.
Andrew Johnson was born in Raleigh, N.C., in 1808. His mother apprenticed Andrew and his brother to a local tailor following the death of his father, which left the family destitute. Shortly thereafter, he and his family moved to Greeneville, Tenn., where he opened a tailor shop and married Eliza McCardle. Johnson, an adept stump speaker, entered politics and served in the U.S. House of Representatives and Senate in the 1840s and 1850s. In 1864, the Republican Party nominated him for vice president.

Johnson became President following President Abraham Lincoln's death in 1865. Highlights of his term include the acquisition of the Alaska territory and the Midway Islands. After leaving office, Johnson went back to Tennessee, remaining politically active. In 1874, Tennessee returned Johnson to the Senate, making him the only former President to have served in the Senate. He died a few months later, on July 31, 1875.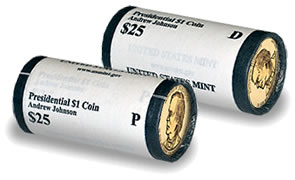 Three more Presidential dollars will follow this year (see 2011 $1 images). Expected circulation dates and the men honored include:
Ulysses S. Grant $1 Coin – May 19, 2011
Rutherford B. Hayes $1 Coin – August 18, 2011
James Garfield $1 Coin – November 17, 2011
The first four Presidential dollars issued in 2007 had the image of George Washington, John Adams, Thomas Jefferson and James Madison. The next four $1 coins released in 2008 honored James Monroe, John Quincy Adams, Andrew Jackson and Martin Van Buren. The 2009 coins depicted William Henry Harrison, John Tyler, James K. Polk and Zachary Taylor. The 2010 coins featured Millard Fillmore, Franklin Pierce, James Buchanan and Abraham Lincoln.
Presidential $1 Coins are produced for use in everyday cash transactions. To date, the Johnson dollar is scarcest with the lowest combined production total of 72.66 million. The 2011-P Johnson is the scarcest dollar coin of all at 35.56 million. The 2011-D Johnson Dollar at 37.1 million falls behind:
2010-D Fillmore (36.96 M)
2010-P Buchanan (36.82 M)
2010-D Buchanan (36.64 M)
2009-D Taylor (36.38 M)
Order Coin Covers from US Mint
Buyers may place orders through the following:
United States Mint Product page
A $4.95 shipping and handling charge will be added for domestic orders. No household limits are in place.
The covers may also be purchased through the Mint's toll-free number, 1-800-USA-MINT (872-6468). Hearing and speech-impaired customers may order by calling 1-888-321-MINT (6468).