November has been a powerhouse of a month for the bullion 2010 Silver Eagle coin. The US Mint has sold more than 32 million of them, shattering previous milestones in the process.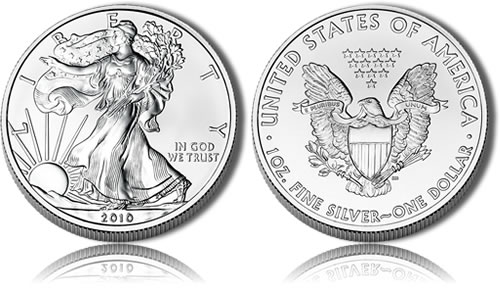 Three new records for the .999 fine silver bullion coins were set at various points in November: best annual sales, best Silver Eagle mintage, and the best ever month.
Striking as well is the fact that each of the new records have not yet peaked — there is more than a week of sales remaining in November, and the annual mintage and sales levels will climb higher through December.
As of Friday, November 19, the US Mint recorded sales of 32,405,500 in 2010.
2010 became the best annual sales year when the Silver Eagles in early November topped their old yearly sales record of 28,766,500 from 2009.
The mintage milestone was broken last week. In atypical fashion and due to high demand, the US Mint sold the 2009-dated Silver Eagle into 2010 until they were sold out on January 12. The extra sales days in January helped lift their final mintage to an impressive 30,459,000. The 2010 Silver Eagle did not debut until January 19. Yet, they still easily passed the 2009s with their mintage on the 19th already at 32,038,000.
The "best ever month" record was hit on Friday. November 2010 Silver Eagle sales reached 3,775,000, eclipsing the 3,696,000 sold by the US Mint in December 1986 — the first full month the bullion coins were available.
So why all the new records? Demand is the main reason, lifted by recent 30-year high silver prices and a continuation of a trend that began in 2008 with the uncertain American economy. Additionally, the US Mint was able to increase its supply of silver coin blanks, and that halted its practice of temporarily suspending or allocating sales when supplies were low. The US Mint has been selling the 2010 Silver Eagle without restrictions since mid-June.
"We have worked very hard with vendors to increase the quantity of precious metal planchets available to us," said US Mint Director Ed Moy said in July. "That hard work has paid off. In fact, we have tripled our supply of silver planchets from Fiscal Year 2007 levels."
The bullion 2010 Silver Eagle coin should not be confused with the collector proof version that launched on Friday. Bullion coins do not have the specialized finishes, nor the "W" mintmark denoting their production at West Point. Bullion coins are also not sold directly by the US Mint while collector coins are. Instead, the US Mint uses a network of Authorized Purchasers who buy eagles in quantity, and then resell them to the public for a small premium over the current silver spot price.