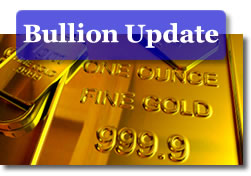 Good Morning,
Another overnight period of tight trading ranges and agonizingly slow business unfolded ahead of Thursday's New York session opening. Gold was confined to an $1162.50-$1170.40 price channel but gyrated mainly around the $1165 figure while the now familiar pattern of lack of interest among European and N. American buyers being offset by sporadic Indian purchases was also manifest.
In the background, the trade was still focused on the Fed survey issued on Wednesday. It shows 12 US regions within which the economic recovery can by labeled as 'up slightly' but at the same time still being plagued by plenty of soft patches. Of most concern, lending activity remains flat and new and/or existing home sales continue to be slow.
The overall characterization offered by this latest Beige Book survey was not very well liked by the markets. It certainly contributed to the US dollar's fall to its lowest level in ninety days on the trade-weighted index (and it did not help gold, either). All this, ahead of tomorrow's GDP number — a figure that will dominate today's and Friday's market plays, without much doubt.
Redemptions in the GLD gold ETF (it reported holdings having lost 18.55 tonnes on Wednesday — the most in over two years' time) and the further 13% shrinkage in net-long positions among futures specs (as of July 20) are clear manifestations of an ebb investment flows following the stabilization of the situation in Europe. Clear to all, except the 'back up the truck, honey!' crowd, that is. Evidently, they choose not to read their favorite newsletter writers' (Adens, Gartman, etc.) latest concessions that there is indeed, a possible change in the market's wind and keep rooting for the aggravation of whatever terrible conditions propelled bullion to the figures it reached in June.
New York spot bullion dealings opened with a loss in gold once again. The yellow metal was down $3.10 per ounce, quoted with an opening bid of $1160.20 as against a falling (!) US dollar on the index (last seen at 81.65) and a $1.306 print on the euro. The bears continue to dominate at this juncture, and the bulls would have to succeed in pushing the metal well past $1,200 an ounce in order to regain some of the recently lost control.
Interestingly, the much-vaunted dollar-gold coupling that was noted in May and June by a host of uber-bullish gold fund managers has held up; only now, both the greenback, as well as gold, are on track to record an equal– roughly 8% loss — since the happier days of June…
The rest of the metals complex traded higher at the open, with rhodium the only exception (down $10 to $2190.00). Silver climbed 2 pennies to $17.49 but platinum added $9 (to reach $1546.00) and palladium rose $10 (to $478.00) per ounce. Impala Platinum and NUM representatives meet next week for wage talks, but a planned strike for Monday was suspended. However, more than 5,000 workers at Northam Platinum stopped work today to grieve over the loss of two of their fellow miners last week.
Meanwhile, platinum output is slated to possibly decline according to reports offered by Commodity Online. CO reporter Geena Paul chimes in from London on the difficulties being faced by various platinum-mining firms in South Africa. For example,
"A recent report said that Platinum Australia is struggling to tackle challenges in mining in South Africa. Production from its flagship Smokey Hills mine for the three months to June was up five per cent at 8,680 ounces of platinum, palladium, rhodium and gold compared to the previous quarter, when operations were hampered by industrial action and power interruptions.

Its challenges continued during the June quarter, when it came across several small potholes — depressions in the basin shape — within the mine, in addition to a large one encountered previously. This 30 metres deep pothole was bad luck, but Platinum Australia was working hard to develop new mining spots so it could work around potholes and keep production on target."
Add power supply issues (costs) to the equation (for Platinum Australia) and potential shutdowns of mines while upgrades in safety and efficiency are undertaken (at Aquarius Platinum), and the tally for the 2011 financial year may show a substantially lower platinum output than first estimated.
We close today's abbreviated report (travel once again is to blame) with US unemployment claims which came in this morning, complete with a drop of 11,000 filings for the week ended July 24 and brought the latest tally to 457,000 in an indication that the word 'sluggish' so frequently used in yesterday's Beige Book survey certainly still applies to the US labour market as well. Words such as 'gradual' and/or 'modest' were also employed by the Fed in describing employment trends in its twelve surveyed districts yesterday.
Eroding property tax revenues and assorted other fiscal woes may force local (state) governments not only to do that which Calif. Gov. Schwarzenegger did (furlough 156,000 state employees for up to three days a month) but to perhaps cut as many as half a million jobs through next year. California dreamin'…this is not. But, hey, Arnie's state is possibly still better off than Arizona (whose leader is shown here

sporting her latest facial…expression in the wake of the derailed immigration reform legislation).
CNN reports that "Anecdotal evidence from business owners, real estate agents and community leaders indicates the mere specter of the bill has created a culture of fear among Hispanics in Arizona that's slowly paralyzing sectors of the economy. Hispanics make up 30 percent of the state's population. The state's unemployment rate in June rose for the third month in a row, to 9.7 percent. The Arizona housing market, which was already suffering from one of the highest foreclosure rates in the country, has also taken an extra hit since the passage of the law, according to real estate agents." "Crossing Arizona" is taking on a new meaning. For United Van Lines, at least…
Happy Tradin'. Saddle Up, Parnder.
Jon Nadler
Senior Analyst
Kitco Metals Inc.
North America
Original article link: Go West, Young Man. Waaay West.
www.kitco.com
and
www.kitco.cn
Blog:
http://www.kitco.com/ind/index.html#nadler
Editor's Note: Meet the Kitco Team at the upcoming Kitco Metals eConference September 12-13, 2010. A not-to-be missed event featuring Ron Paul, Marc Faber and other industry heavyweights. The eConference is free with Pre- Registration www.kitcoeconf.com.
---
The United States Mint began issuing American Eagle Silver coins in 1986. To learn about the first silver versions, visit sister CoinNews site and read 1986 Silver Eagles.