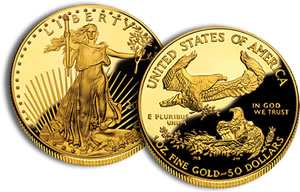 A House of Representatives subcommittee hearing on Tuesday revealed better odds in minting proof and uncirculated 2010 American Silver Eagle coins. But what about 2010 proof American Gold Eagles?
As a reminder, the 2009 versions of these numismatic coins were canceled as the United States Mint focused its resources and available coin blank or planchet supplies on producing bullion coins.
During the hearing, U.S. Mint Director Ed Moy spoke of his support for legislation that would redirect a portion of silver planchets from legally mandated bullion coins to discretionary proof and uncirculated silver dollars. (Read Proof Silver Eagles Possible.) Subcommittee members and panelists voiced no opposition in amending current law to make them possible.
"Such a change would be one of the most positive customer satisfaction measures that could be taken to benefit your coin collecting constituents without having an effect on American's ability to acquire investment-grade silver bullion," Moy testified.
If the legislation was enacted soon, Moy indicated that the Mint could produce up to 200,000 collector 2010 Silver Eagles a month. He added that the mintage could total 830,000 this year if they could begin by September.
But visibly absent from Moy's testimony was the discussion of 2010 proof and uncirculated American Gold Eagles. While that may seem disappointing at first glance, the omission seems more likely an indicator that their production this year is already on steadier ground.
Several factors point to that likelihood, and highlight how silver and gold eagles differ this year:
Demand for bullion Silver Eagles is at unprecedented levels — more were sold in the last 18 months than the prior 4 years combined. On the other hand, bullion Gold Eagle coin sales have been exceptionally high, but not unprecedented and nowhere near the sheer mountain scaled by Silver Eagles. Year to date sales of Gold Eagle are at 762,000 ounces. In contrast, YTD Silver Eagle sales are 26 times higher at 20,104,000.
Moy has stated at least once (in late March) that the Mint started to store gold blanks. "Any time that we get ahead of demand, we are storing away blanks" for collector gold and silver coins, Moy said. "If demand catches up, that's when we have to use the blanks. I will tell you that in the last five weeks or so, we caught up to gold demand. And so with that, we've been storing gold coins. We're still waiting to see if there's going to be another spike in the near future. Silver unfortunately is still red hot." Since that statement, the Mint has been able to keep up with bullion gold coin demand with no suspensions, and potentially hoarding more blanks.
2010 Fractional American Gold Eagle bullion coins went on sale June 10. Again, no suspensions have since been announced. Further, the confidence in offering the coins in mid June is significant. The Mint was more stressed in 2009, only offering the fractionals beginning December 3.
Higher gold prices are minimizing sales of currently offered collector gold coins, even to the point where household order limits have vanished. The least expensive 1/2 ounce First Spouse Gold Coins cost a tidy $741 (after having just been lowered by $25 Wednesday afternoon). That prices them out of many collector's desired buying range. With gold hovering around $1,190 an ounce as of this writing, a 2010 proof Gold Eagle would cost $1,435 while an uncirculated version would be $1,428 — a hefty leap from when they last launched in 2008 for $1,199.95 and $1,119.95, respectively. These higher premiums pressure demand, making it easier for the Mint to tackle their release.
Finally and most pronounced of all the points, if maximum mintage limits were kept at the same levels as 2008, the Mint's total coin blank exposure for the 2010 proof Gold Eagles would be: 1 oz at 60,000; 1/2 oz at 35,000; 1/4 oz at 51,000 and 1/10 oz at 65,000. In coin count, the Mint easily handled well over these numbers in under five days when the bullion fractional 2010 Gold Eagles were released. (Read US Mint Sells 310,000 Fractional Gold Eagles in Five Days.)
It appears collector 2010 Silver Eagles may launch only with the passage of new legislation. Time is dwindling for that, with Congressional members soon leaving D.C. to go back home and focus full time on their reelection campaigns. However, 2010 proof and uncirculated Gold Eagles could stand on their own without the involvement of Congress or a Presidential signature. While equal representation under any new amended law would be a nicety which they should (and might) eventually enjoy, they may not need the help this year.