Ottawa, Ontario — A cousin of T-Rex is on the loose as the Royal Canadian Mint rolls out a new dinosaur collector coin just in time for the Canadian Museum of Nature's long-awaited re-opening and centennial celebration weekend, from May 22 to May 24, 2010.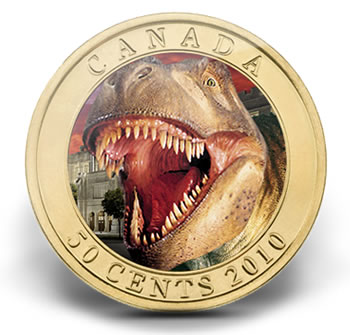 The Mint has taken this coin's life-like motion of its lenticular technology to new heights with a 15-frame animation of a fearsome Daspletosaurus Torosus prowling the Museum's grounds in downtown Ottawa.
Available to the public since May 3, 2010, this 50-cent brass-plated steel lenticular coin is the first of a series of three coins to be issued in 2010 featuring realistic animations of dinosaurs.
The Mint is looking forward to inaugurating the Museum's Victoria Day celebrations on May 24, 2010 by presenting the Canadian Museum of Nature with its very own framed Daspletosaurus Torosus coin.
"The Royal Canadian Mint is proud to have once more merged art and technology to create a collector coin which celebrates Canada's wealth of dinosaur fossils and the 100th birthday of one of its greatest natural history museums," said Ian E. Bennett, President and CEO of the Royal Canadian Mint.

"The Canadian Museum of Nature is a leading authority in the field of natural science, including palaeontology, and the Mint is delighted to join the Museum's centennial celebrations through an exciting new lenticular coin featuring one of its famous dinosaur residents."
The new 50-cent Daspletosaurus Torosus lenticular coin comes six exciting trading cards: five of them show off different dinosaurs and the sixth tells the story of Ottawa's famous Canadian Museum of Nature.
On July 21, 2010, dinosaur enthusiasts can begin tracking down the Albertosaurus coin which will also honour the centennial of Alberta's Royal Tyrrell Museum. On October 6, the lenticular coin featuring Sinosauropteryx, another prized member of the Canadian Museum of Nature's dinosaur collection, will complete the 2010 issues of this series.
To celebrate its exciting new dinosaur coins, the Mint invites young dinosaur coin hunters to join the Dinosaur Discovery Contest. Until July 30, 2010, adults are encouraged to enter their child, grandchild, niece or nephew to this fun contest, launched in partnership with chickaDee, OWL, Les Explorateurs and Les Debrouillards magazines.
Lucky contestants will win exciting prizes such as dinosaur lenticular coins, free museum passes, a new Nintendo DSi player with a Fossil Fighter video game, as well as cool books about science and dinosaurs.
Entry forms are available in current issues of the above-noted magazines, by visiting www.owlkids.com/dino or by calling 1-877-954-2700 (ext. 386).
Each coin retails for $24.95 CAD and Daspletosaurus Torosus is currently available through the Mint's on-line store at www.mint.ca/dinosaur, or by direct order from the Mint at 1-800-267-1871 in Canada and 1-800-268-6468 in the US.
The coin is also available at the Mint's boutiques in Ottawa and Winnipeg as well as through our global network of dealers and distributors.
About the Royal Canadian Mint
The Royal Canadian Mint is the Crown Corporation responsible for the minting and distribution of Canada's circulation coins.
An ISO 9001-2008 certified company, the Mint is recognized as one of the largest and most versatile mints in the world, offering a wide range of specialized, high quality coinage products and related services on an international scale.
For more information on the Mint, its products and services, visit www.mint.ca.