DALLAS, TX — There can be no doubt as to the continuing strength and ever-growing interest in the World Coin market after Heritage Auction Galleries April 21-22 Signature® World Coin Auction at the Chicago International Coin Fair (CICF) brought almost 3350 bidders to the table and realized a stunning total of more than $5.2 million.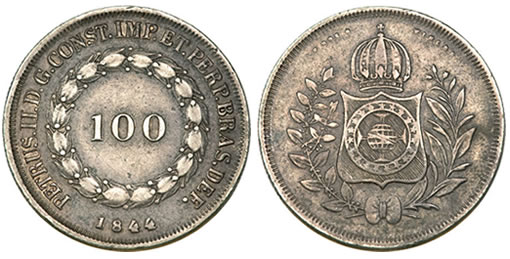 This rare Brazilian 100 Reis was the most coveted at the Heritage CICF event, breaking its own World Price Record of $84,000, set in May of 2008, when it finished at $138,000.
"Heritage couldn't be happier with the move of our spring auction to the CICF," said Cristiano Bierrenbach, Director of International Sales at Heritage. "Anytime we can reach so many high-end world buyers in one place, and subsequently realize more than 94% by value and 97% by lot on an auction, we know we're in the right spot."
The auction also marked the beginning of a new CICF partnership between Heritage and Krause Publications, the producers of World Coin News, Numismatic News and Bank Note Reporter, among its many publications. By all accounts, the new union was an unqualified success.
"The addition of Heritage as official CICF auctioneer gave the show a big lift," said convention chairman and Krause Group Publisher Scott Tappa. "The depth and breadth of the four-session sale attracted a great array of attendees and added to our growing bourse floor. We look forward to Heritage's continued partnership with CICF and Krause Publications for years to come."
"Scott Tappa and his crew put together a world class event and we matched it with more than 4700 lots for the Heritage collecting community worldwide," said Bierrenbach. "When I think the world coin market can't surprise us anymore, we have an auction like this with results much stronger than we could've predicted. It's a wonderful thing to be a part of."
Of all the international numismatic treasure up for grabs at the Heritage CICF event, a Brazilian rarity was to be the most coveted, with a Pedro II 100 Reis 1844, KM452, Russo 525, VF35 NGC breaking its own World Price Record of $84,000, set in May of 2008, when it finished at $138,000, more than doubling its base estimate of $60,000. The coin came to auction via the Paulistana Collection.
"This is the finest specimen of only three known," said Bierrenbach. "In 1834, Brazil, now an independent empire, attempted a new monetary system nicknamed the Cruzado. While it ultimately failed by 1848, the 1844 100 Reis is without a doubt the jewel of the series."
Of equal demand, and certainly showing that collectors are paying attention to the sleeping giant of the East, was Chinese numismatic treasure, and a spectacular People's Republic of China Lunar Series Kilo gold 10,000 Yuan Year of the Horse 2002, KM1427, which realized $138,000 amidst fierce bidding. This coin, numbered 10, is one of only 15 minted at the Shanghai Mint, all of which were initially intended for export. In truth, many of these large issue coins have been melted, so the actual numbers in existence may be considerably lower than listed mintages.
Chinese coin highlights continued to dominate the top lots of the auction with a People's Republic of China 20 Ounce gold 1,500 Yuan Phoenix and Dragon 1990, KM321, bringing twice its base estimate at $80,500 and a stunner when a People's Republic of China five-piece platinum 1/4 oz., 25 Yuan set 1993, Ancient Scientific and Technical Inventions and Discoveries, Second Set, all Gem Proof with COA, APW 1.2500 oz., realized a hefty $54,625 against a base estimate of only $2,000.
"In so many areas right now, and especially in numismatics, China is very hot," said Warren Tucker, Director of World Coins at Heritage Auctions. "When a coin that is estimated at only $2,000 ends up at almost $55,000, that tells us clearly that the eyes of collectors are on, or in, China."
Besides the top lot of the auction, extra strength continued to be seen in Brazilian coins, with the Paulistana Collection bringing more than 25% over Heritage's most optimistic pre-auction estimates. Besides the 1844 100 Reis, which brought $138,000, a key Pedro II 960 Reis 1834-R, KM385, Russo 519, VF35 NGC showed considerable spirit at $37,375, while a spectacular Pedro II 500 Reis 1848, KM458, Russo 561, XF40 NGC — a controversial issue, with only two or three original specimens in existence and a large number of counterfeits — realized $32,200.
One of the auction's anchor consignments, the Silver Around the World Collection, drew rave reviews from collectors and saw prices realized that were 60% higher than pre-auction estimates. Highlights include a Stanislaus August Talar 1793, Davenport 1622, KM214, MS62 NGC, which brought $12,650 against a base estimate of $4,500; a Felipe V 8 Reales 1728-S P, KM336.3, Cayon-9311, MS66 NGC, which more than doubled its base $4,000 estimate to realize $10,925, and a German Colonial 2 Rupien 1893, KM5, Proof Cameo 64 NGC that saw $9,200, also against a base estimate of $4,000.
One of the great surprises of the auction was the incredible strong prices seen for Iranian coins, as evidenced by a gorgeous reddish-orange Nasir al-Din copper Pattern 50 Dinars AH1281 (1864), which realized $8,625 against a $1,000-$1,500 estimate, and a Nasir al-Din 2000 Dinars AH1313 (1895), KM913, MS63 PCGS, that soared well-above pre-auction estimates to finish at $7,475.
"The next Heritage World Coin auction is at the Boston ANA on Aug. 12 and 13," said Bierrenbach. "Considering how well this auction did, and considering that we already have millions in consignments, it promises to be another very exciting event to top off a record-breaking year for Heritage's world coin venue."
About Heritage Auctions
Heritage Auctions, headed by Steve Ivy, Jim Halperin and Greg Rohan, is the world's third largest auction house, with annual sales more than $600 million, and 500,000+ registered online bidder members.
For more information about Heritage Auctions, and to join and gain access to a complete record of prices realized, along with full-color, enlargeable photos of each lot, please visit HA.com.
Want to get the up-to-the-minute updates and breaking news stories about Heritage Auctions? Get them as they happen at: Twitter.com/HeritagePress; Twitter.com/JimHalperin; Facebook: Heritage Auction Galleries.