Lake Oswego, Ore. — Bullion investment reached a new level of value today with the debut of Bullion Exchange International.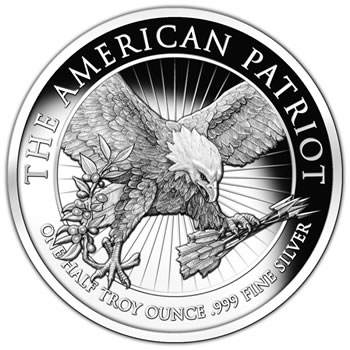 The American Patriot: .5 ounce, .999 fine silver round features the bald eagle, designed by the world renowned Lorenzo Ghiglieri.
Working with world renowned artists, Bullion Exchange International offers painstakingly designed gold and silver coins and bars, bringing a luxurious bullion experience to investors, collectors and art connoisseurs alike.
Bullion Exchange International's exclusive offerings feature the work of Lorenzo Ghiglieri, a distinguished artist and sculptor who has produced art for some of the greatest world leaders in history, from Queen Elizabeth to Pope John Paul II to President Ronald Reagan.
Ghiglieri's premiere series features patriotic images specially designed for Bullion Exchange International's wide variety of sizes and forms, from 1/2 oz. coins to 1000 oz. bars. Silver pieces are available for purchase today at www.bei100.com, with gold offerings coming later this year.
"Over the years, many of my clients have expressed desire to augment their larger works with smaller scale pieces. With a long history working with precious metals and the historical prestige and value held in bullion, the vision of bringing fine art to bullion investment was born," said Lorenzo Ghiglieri, world renowned artist and sculptor.

"Working with Bullion Exchange International, it is an honor to debut this new form of my work and I look forward to introducing additional series in the future."
In addition to the unique value of Ghiglieri's fine art, Bullion Exchange International offers an exclusive merit program which grants the first 10 percent of buyers of a limited edition of silver pieces weighing one hundred ounces or more an entitlement on the sales of pieces of equal size. For additional details on the program, visit Bullion Exchange International.
About Bullion Exchange International
Bullion Exchange International is synonymous with the most beautifully designed bullion in the marketplace. The name symbolizes rarity, beauty, excellence and above all the best quality. Working with world renowned artists whose works have graced history, Bullion Exchange International produces fine art in the form of silver and gold coins and bars, making it the most luxurious experience in bullion investments. For more information and to view our gallery, please visit Bullion Exchange International.