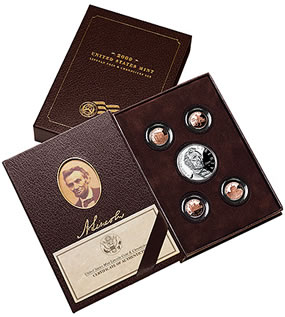 Thursday was a day of excitement, anger and despair for many coin collectors who attempted to place an order early for the new US Mint Lincoln Coin and Chronicles Set.
Whether an order was placed by phone or straight from the Mint's Web site, the more likely outcome for most collectors was inaction and irritation. Visitors to the site were greeted with a "Service Unavailable" or simply a generic "The connection was reset" message. The site was down more than up. Those calling on the phone were met with a repeated automated message "We are unable to answer your call at this time. Please try again later."
The sets were released at noon ET. By accounts, the Mint appeared to be the busiest they have ever been this year. An easing seemed to occur after the first hour went by. After many, many repeated attempts, phone orders went through more readily. The web appeared to be a bigger problem. The Mint site returned to a more normal and consistent behavior by 3:30 pm ET. By evening, it was as smooth as ever.
Of course many collectors were more than frustrated. The Mint did have more staff on hand, but it comes to a point that there is only so much they can do when there appears to be tens of thousands of collectors who come knocking on the door nearly at once.
Unfortunately for our readers, interest in the Lincoln Coin and Chronicles Set also brought CoinNews.net down for a few short moments. We apologize for that. More than nine thousand collectors passed through CoinNews this afternoon. While we see that in a long day, we have not in one short afternoon. At one point, within the space of 20 minutes more than one thousand readers clicked on the link we provided to the US Mint Web order page.
As of this writing, the set is still available from the Mint for $55.95, although shipping is scheduled at four to six weeks out according to Mint phone reps. There is no telling how much longer they will remain on sale. It is only speculation at this point, but tens of thousands must be sold by now. We will report on that as soon as possible. Only 50,000 are authorized.
Activity on the secondary market has already picked up. In the past few days there were generally less than a half a dozen pre-sale sets available on eBay and premiums were at least $150-$200. As of this writing, there are already 78 auction listings with beginning prices much more reasonable. (See Lincoln Coin & Chronicles Sets on eBay
.)
The set may be ordered from the United States Mint Web site at http://www.usmint.gov/, or directly here.
Orders may also be placed at the toll-free number 1-800- USA-MINT (872-6468). Hearing and speech-impaired customers may order by calling 1-888-321-MINT (6468).
We would also like to remind readers of our dedicated Web site for the set, which provides much more information. It is located at Lincoln Coin and Chronicles Set. Our original announcement of the set may also be worth the read.