OTTAWA — Coin collectors and astronomy fans alike will be impressed by the Royal Canadian Mint's $30 Sterling Silver International Year of Astronomy collector coin, as well as several new products which are sure to attract the gaze of those looking to expand their collections or acquire finely crafted keepsakes of innovative design and composition.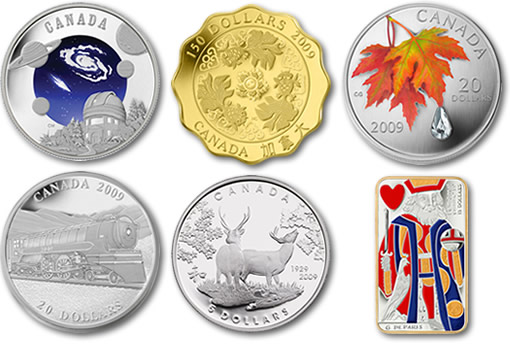 Other entries in the Mint's third product release of 2009 include the final issue of the Playing Card Money series, a new Blessings of Wealth 99.999% pure gold coin, an "Autumn Jewel" crystal raindrop coin and the newest issue of the $20 Fine Silver Great Canadian Locomotive Series featuring the Jubilee. These products will be available for purchase as of July 22, 2009.
"The Royal Canadian Mint is fortunate in its ability to fashion collector coins featuring so many compelling themes which speak to Canada's role in the world, as well as its proud heritage and culture," said Ian E. Bennett, President and CEO of the Royal Canadian Mint.

"From honouring Canada's sterling contribution to the field of astronomy to paying a golden tribute to Asian culture, the Mint is expanding its universe of unique and innovative collector coins with the newest products of 2009."
The following are descriptions of the new products being introduced.
2009 $30 STERLING SILVER COIN – INTERNATIONAL YEAR OF ASTRONOMY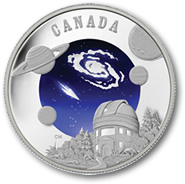 Humanity has always been fascinated by the vision of the night sky and as legend yielded to science, the mysteries of the heavens have been gradually solved by the world's astronomers. The relentless work of Canadian and international scientists, through which the compelling realities of our universe continue to be unveiled, is being celebrated in 2009 through the official recognition of the International Year of Astronomy.
The Mint is proud to add its own sterling silver coin to the growing line-up of numismatic tributes to this global celebration of the field of astronomy.
The Mint has crafted a $30 sterling silver coin featuring an observatory surrounded by outer space icons such as a galaxy, a comet and the planet Saturn. These shimmering objects stand out against the painted background of a starry night sky appearing blue on the horizon and gradually darkening to black. This eye-catching design is the work of Toronto artist Colin Mayne.
The International Year of Astronomy coin is limited to a mintage of 10,000 and is available for $89.95 CDN.
2009 $150 PURE GOLD COIN – BLESSINGS OF WEALTH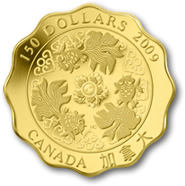 Since the Mint became the first to produce a 99.999% pure gold coin in 1998, collector interest in the purest gold collector coins in the world has been undiminished. The latest Mint offering to satisfy demand for the best and purest gold coins available is the 2009 $150 Blessings of Wealth collector coin.
Accomplished artist Harvey Chan of Toronto has created a stunning expression of the blessing "May gold and jade fill your house," highlighted by the depiction of elegant goldfish, whose Chinese character "Yù" is synonymous with jade and wealth. The presence of cloud patterns symbolizing eternity and the noble peony in the centre reinforce the wish of never-ending good fortune. The blessing is also finely engraved in Chinese characters on the reverse of this coin.
Limited to a worldwide mintage of 5,000, this coin retails for $799.95 CDN.
2009 $20 FINE SILVER COIN – AUTUMN SHOWERS CRYSTAL RAINDROP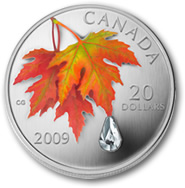 Following on the success of the Mint's first coin combining colour and crystal applications in 2008, the cherished maple leaf adorned by a glistening drop of water dripping from its surface makes a return with the 2009 $20 Fine Silver Autumn Showers Crystal Raindrop.
The inset CRYSTALLIZED(TM) – Swarovski Elements contrast beautifully against the bright vivid fall colours of a pair of maple leaves painted on a 99.99% pure silver coin designed by Ontario artist Celia Godkin.
Only 10,000 of these coins, with a retail price of $94.95 CDN, are available world-wide.
2009 $20 FINE SILVER COIN – GREAT CANADIAN LOCOMOTIVES SERIES: JUBILEE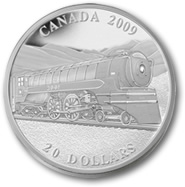 The Mint's tribute to the great locomotives of Canada's golden age of rail travel steams ahead with a second instalment celebrating the Jubilee, a new class of F2a Type 4-4-4 locomotive (four leading wheels, four driving wheels and four trailing wheels), christened in honour of the Canadian Pacific Railroad's 50th anniversary in 1936.
Five Jubilee engines ruled the rails for years after more than 500,000 Canadians welcomed these new engines during their exhibition tour of Canada. This 99.99% pure silver coin, crafted by Mint Engraver William Woodruff, again features edge-lettering showing the locomotive's name against a plain edge.
Retailing at $74.95 CDN, this coin is limited to a worldwide mintage of 10,000.
2009 $15 PLAYING CARD MONEY SERIES – KING OF HEARTS AND PLAYING CARD MONEY SET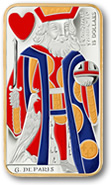 The Mint's Playing Card Money silver coin series concludes with the issue of the $15 sterling silver King of Hearts. This final rectangular work of art completes a four-coin series which evokes an unusual chapter in Canadian history.
A shortage of hard currency was ingeniously solved by the Governor of New France who seized all playing cards in the colony and re-issued them with his signature to designate them as official currency. This unique form of currency comes back to life on a beautifully painted sterling silver coin designed from artwork preserved by Library and Archives Canada and featuring a selectively gold-plated rim.
Only 25,000 of these finely crafted coins are available world-wide, each retailing for $94.95 CDN.
On the conclusion of this series, the Mint is now offering all four Playing Card Money Series coins in a collector case for the price of $359.95 CDN, while supplies last.
$5 STERLING SILVER COIN – 80th ANNIVERSARY OF CANADA IN JAPAN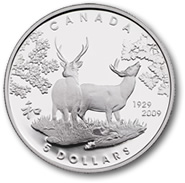 The Mint is also launching a special sterling silver $5 proof coin produced in collaboration with the Japan Mint on July 22, 2009.
The coin's 1929-2009 double date marks the 80th anniversary of official diplomatic relations between Canada and Japan. The main feature of its reverse design is a wilderness scene representing the flora and fauna of both countries: a Canadian white-tailed deer with maple leaf foliage, accompanied by a Japanese shika deer flanked by cherry blossoms. The addition of the Japanese character "Wa" accentuates the theme of harmony.
Out of a mintage of 30,000, Japanese collectors will be able to purchase this coin as part of 25,000 special commemorative proof sets issued by the Japan Mint.
5,000 individual $5 coins will be offered exclusively to Royal Canadian Mint Masters Club members.
The Mint's products are available directly from the Mint at 1-800-267-1871 in Canada, 1-800-268-6468 in the US, or on the Internet at www.mint.ca. The coins are also available at the Royal Canadian Mint's global network of dealers and distributors.
# # #
About the Royal Canadian Mint
The Royal Canadian Mint is the Crown Corporation responsible for the minting and distribution of Canada's circulation coins. An ISO 9001-2000 certified company, the Mint is recognized as one of the largest and most versatile mints in the world, offering a wide range of specialized, high quality coinage products and related services on an international scale.
The Mint is an Official Supporter of the Vancouver 2010 Olympic and Paralympic Winter Games and has undertaken to produce the most extensive circulation coin program in relation to the Olympic Games ever conceived by any mint worldwide, while also offering limited mintage collector coins and sets. Visit www.mint.ca/2010 for Vancouver 2010 keepsakes and gifts.