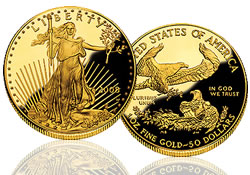 The one-tenth ounce 2008-W American Eagle Gold Proof is the sole remaining collector coin left in the series from the US Mint. The one-quarter ounce proof had been in back order status since late last week and sold out on Monday. The other sizes and the 4-coin set were depleted weeks ago.
The newest Mint figures indicate 6,073 of the one-quarter ounce coins had been sold. That is an increase of 759 coins, or 14.3 percent, from the 5,314 reported sold prior to December 25th. Finalized numbers are likely to be revealed next week.
The collector's eye will now turn to the remaining one-tenth ounce proof coin. The coin is priced at $162.95. As the smallest, it has always carried the heaviest premium over the price of gold. New sales figures show 10,897 have been sold, which is up 202 coins, or 1.9 percent from the last report.
All 2008-W American Eagle Gold Uncirculated coins are still onsale through the US Mint online store.
View the updated US Mint gold, silver and platinum coin price guide for the latest sales figures, Mint pricing and product links.