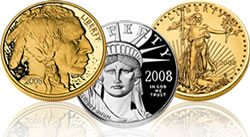 The pace at which gold and platinum collector coins have disappeared from U.S. Mint store shelves is blistering. The final two uncirculated gold Buffalo coins sold out over the weekend, the last proof Buffalo went Monday afternoon, and the proof American Eagle platinum one ounce, one-half ounce and one-quarter ounce options sold out this morning.
Further, the Eagle platinum proof one-tenth ounce and four-coin set may be joining the "sold out" ranks since their shipping dates have been delayed. In past weeks, that has been a strong indicator of a quickly depleting inventory. It appears the proof and uncirculated American Eagle gold coins will soon be the sole remaining collector options available.
With all these latest sell outs, it is worth remembering the collector gold and platinum coins the U.S. Mint announced it will no longer produce in 2009:
American Eagle Platinum Uncirculated Coins (all options)
American Eagle Platinum Proof 1/2, 1/4, 1/10, and Four-Coin Sets
American Eagle Gold Uncirculated 1/2, 1/4, 1/10, and Four-Coin Sets
American Buffalo Uncirculated Gold Coins (all options)
American Buffalo Proof 1/2, 1/4, 1/10, and Four-Coin Sets
While that announcement has certainly added deeper interest in certain options, the Mint's reduction in coin prices and their continual availability has helped sales as well. Through much of 2008, many Mint collector gold and platinum coins had enormous premiums making some purchases difficult to swallow. Plus, many coins were off store shelves for months during volatile bullion swings.
[Editor's update: Eight collector bullion coins have now sold out within a week. For more, read the Dec. 11 Mint gold and platinum coin sales figures.]
The CoinNews collector tool page U.S. Mint Collector Bullion Coin Prices, Premiums and Sales Figures has been updated with the latest sold out products, coin premiums over bullion spots, and Mint sales figures.