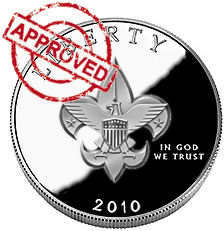 A commemorative Boy Scouts coin just moved closer to becoming reality. On May 15, the House of Representatives passed H.R. 5872, an act "To require the Secretary of the Treasury to mint coins in commemoration of the centennial of the Boy Scouts of America, and for other purposes."
They did so with strong bipartisan support similar to their very recent passage of the palladium Saint-Gaudens double eagle coin legislation. Although 8 Democrats voted against the bill, they were easily overwhelmed with the support of 215 Democrats and 186 Republicans.
Legislation must now pass in the Senate and then get signed by the President to become law.
H.R. 5872 is officially entitled the Boy Scouts of America Centennial Commemorative Coin Act and calls for 350,000 silver $1 coins to be minted in 2010. The collector coin would contain 90% silver and 10% copper.
Rep Pete Sessions [R-TX] introduced the bill in April and said at the time,
"Boy Scouts are a significant part of American culture, shaping the values, citizenship, and skills of millions of young men," Sessions stated. "As an Eagle Scout with four generations of Boy Scouts in my family, I strongly value the Boy Scouts' history of instilling a sense of duty to God, country, and self."
Will H.R. 5872 become law? In the 110th Congress, 248 members of the House of Representative and the Senate have participated in Boy Scouts of America as Scouts or adult leaders. That along with its nearly unanimous "yes" vote in the House is extremely promising.
To be fair, there are dissenters. It's not about commemorating the Boy Scouts of America, but for the section in the bill that would mandate a $10 surcharge for the sale of each coin for the National Boy Scouts of America Foundation.
For a perspective of the argument, visit the Dissident Voice article, Congress's $3.5 million "Bake Sale" for the Boy Scouts.
Recent CoinNews reader comments for Boy Scout of America Centennial coin
CoinNews readers have shown strong support for the coin as well. Check out some of their recent comments.
Fred Goodwin says:

I'm not a coin collector, but I am a Scout volunteer, and I think this is a wonderful way to celebrate 100 years of the Boy Scouts of America. Rep. Sessions is also sponsoring a letter to the Postal Service asking them to issue a 100th Anniversary of BSA commemorative stamp.

2010 will certainly be a special year for the Boy Scouts of America!
Dave Wegmann says:

Well said, Ted. With only 350,000 minted, and millions of Scouters nationwide, this is sure to be a popular issuance.
Philip Velez says:

As a professional Scouter I am ecstatic to hear about the minted coin. The idea of a commemorative stamp is also a great idea too. 100 years strong and many more years to come!
M. J. Faust says:

I can hardly wait until the sale begins. Hopefully I will be one of the lucky 350,000. As a Scouter, I look forward to purchasing this peace of history. I am also eager to purchase the commemorative stamps–to save for the future and to place on mail to show support for this great organization.
Warren D. Monroe says:

Being quite involved in Scouting and not a collector, nor having any idea how the distribution would go, how would one purchase these coins. They would be great gifts for scouts achieving the rank of Eagle.
Corinna Woods says:

I have been a scouting volunteer for twenty one years and cannot wait for our one hundredth anniversary!!! It is wonderful for congress to recognize such an outstanding organization for our youth!!!

Kudos to Congress and our wonderful volunteers!!
ALBERT E. CAHILL says:

I hope I can obtain 5 – one for each of the Eagles in our Family,
my two brothers and I – and my two sons!
Editor's note: H.R. 5872 is now law. Both the House and Senate passed the legislation and President Bush signed it into law (Public Law No: 110-363) October 8, 2008.