The Yosemite National Park Silver Bullion Coin is the third issue in the United States Mint five ounce silver series dedicated to beautiful sites found throughout the United States. This specific silver bullion coin honors Yosemite National Park of California.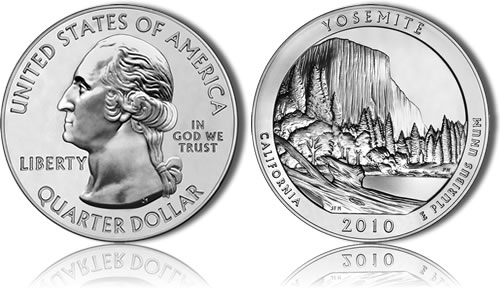 The coin is struck from five ounces of .999 fine silver and was released on December 10, 2010, for sale to the US Mint's network of authorized purchasers. Five United States Mint America the Beautiful Silver Bullion Coins™ were released on that same day representing the 2010-dated issues of the series.
All five of the 2010 America the Beautiful Silver Bullion Coins were in high demand from the authorized purchasers (APs). They purchased the Mint's entire mintage of 33,000 of each of the five strikes within three weeks of their release. Unfortunately, most collectors and investors had to wait several more weeks to order them from the APs as those organizations established procedures for the sale of the coins as required by the Mint.
The silver bullion coin contains the same designs as the companion collector grade Yosemite Uncirculated Five Ounce Silver Coin (released by the United States Mint in early 2011) and the already issued Yosemite National Park Quarter from the America the Beautiful Quarters series. Accordingly, the obverse contains the familiar image of George Washington that has been seen on the quarter dollar since 1932. It was designed by John Flanagan. Also included are the inscriptions of UNITED STATES OF AMERICA, LIBERTY, IN GOD WE TRUST and QUARTER DOLLAR.
On the silver bullion coin reverse is El Capitan, a massive granite monolith found in Yosemite National Park. The design was completed by Joseph Menna and sculpted by Phebe Hemphill and also includes the inscriptions of YOSEMITE, CALIFORNIA, 2010 and E PLURIBUS UNUM.
Yosemite National Park in California
The following information was provided about the national site by the United States Mint during the launch of the circulating Yosemite America the Beautiful Quarter:
"With this quarter, the United States Mint connects America to the wonder, peace and beauty of one of its most awe-inspiring natural treasures – Yosemite National Park," said United States Mint Director Ed Moy.

"This new quarter is yet another way that Yosemite's legacy will live on by reminding those who take home the Yosemite National Park quarter how special America's national parks are," said Yosemite National Park Superintendent Don Neubacher.
Yosemite in California was established as a national site on October 1, 1890, and is one of the first wilderness parks in the United States. The park is best known for its waterfalls, but within its nearly 1,200 square miles there are also deep valleys, grand meadows, ancient giant sequoias, a vast wilderness area and much more. Yosemite is not only a great valley, but also a shrine to human foresight, strength of granite, power of glaciers, the persistence of life and the tranquility of the High Sierra.