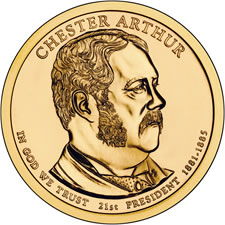 Sales started quick for Chester Arthur Presidential $1 Coins as United States Mint figures show collectors ordered 2,866,600 within the first five days of their April 5, 2012 release.
With Presidential $1 coins no longer produced for circulation per an order directed at the U.S. Mint from the Treasury Department, the single source of the dollars is now the Mint. That, along with new 250- and 500-coin box products proved favorable to sales.
A sales debut has not been as strong for a new Presidential $1 coin since those honoring Abraham Lincoln that were released in November 2010.
In terms of product options for the new Chester Arthur dollar, buyers had the choice of 25-coin rolls, 250-coin boxes and 500-coin boxes. The rolls and boxes are filled with either Philadelphia or Denver minted dollars, buyer's choice. The following grid shows the unit sales by product option.
Chester Arthur $1 Coins – Rolls and Boxes
Product
Price
Unit Sales*
$1 Coins
25-Coin Roll (P)
$32.95
31,533
788,325
25-Coin Roll (D)
$32.95
29,291
732,275
250-Coin Box (P)
$275.95
1,254
313,500
250-Coin Box (D)
$275.95
1,216
304,000
500-Coin Box (P)
$550.95
721
360,500
500-Coin Box (D)
$550.95
736
368,000
Total $1's
2,866,600
*U.S. Mint sales are as of Monday, April 9, 2012.
Based on available production figures, the United States Mint struck a total of 5.74 million Chester Arthur dollars, with 2.8 million from Denver and 2.94 million from Philadelphia. If these numbers remain unchanged, the Mint has already sold 49.9% of its inventory.
Chester Arthur Presidential dollars in either rolls or boxes are available directly from the U.S. Mint's online site at http://catalog.usmint.gov/. At a yet to be determined date, the U.S. Mint will also offer 100-coin bags of the coins from either Denver or Philadelphia for $11.95 each.