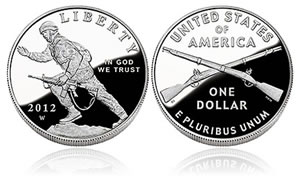 Today, February 16, 2012, the United States Mint released the uncirculated and proof Infantry Soldier Silver Dollars along with the Infantry Soldier Silver Dollar Defenders of Freedom Set. Respective introductory price points for each are $44.95, $49.95 and $51.95.
The coins and set commemorate the legacy of the U.S. Army Infantry and the establishment of the National Infantry Museum and Soldier Center. $10 surcharges are included in the sale of each of the three products with proceeds going to the National Infantry Foundation to support the museum.
Mintages are limited for the Infantry Soldier Dollars, with 350,000 authorized across all product lines. The Defenders of Freedom Set has its own production limit of 50,000. This set includes one of the proof dollars and a replica dog tag on a miniature chain all within a custom folder designed by the US Mint.
Additional information and purchase options for the commemorative coins and set are available from the US Mint online store at http://catalog.usmint.gov/. The US Mint will discontinue the introductory pricing for the proof and uncirculated dollars after 5 p.m. (ET) on March 19, 2012. Immediately following, both coins will still be available but at a price which is $5 higher — $49.95 for the uncirculated and $54.95 for the proof. If still available, the price for the Defenders of Freedom Set would likely be raised as well, although the US Mint has not so indicated.
This year, as in most, there are two commemorative coin programs. The first includes the Infantry Soldier Dollars. The second will include the Star-Spangled Banner $5 gold and silver dollars. These issues are expected out on March 5, 2012.