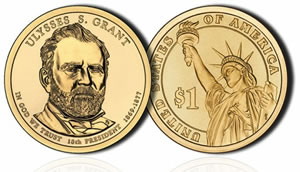 Ending sales of Ulysses S. Grant Presidential $1 Coin rolls are now known.
Rolls of the circulation quality dollars were released by the United States Mint on May 19, 2011. The bureau stopped selling them shortly after it released Grover Cleveland (First Term) Presidential $1 Coins on May 25, 2012.
Sales of Ulysses S. Grant Presidential $1 Coin rolls have not changed for the last two U.S. Mint weekly reports published on June 4 and June 11. The bureau is now simply stating in said reports that Grant $1 rolls are "NLA," for no longer available, which means future sales updates will not occur. The last unit figures as of May 28, 2012 had totals of:
Ulysses S. Grant 25-Coin Rolls from Philadelphia with ending sales of 31,064
Ulysses S. Grant 25-Coin Rolls from Denver with ending sales of 29,828
These amounts sum to 776,600 (P) dollars and 745,700 (D) dollars for a combined total of 1,522,300. The totals do not account for all the coins produced. Grant $1 coin production figures from the U.S. Mint reveal 38.08 million from Philadelphia and 37.94 million from Denver were minted for use in American circulation. Whether all 76.02 million Ulysses S. Grant Presidential $1 Coins ever see the light of day or whether many of them remain stored within Federal Reserve vaults is impossible to say.
This year the U.S. Mint has been offering newly released dollar coins in rolls as well as in bags and in 250- and 500-coin boxes. These sales have far exceeded those of the Grant and other past Presidential $1 coin rolls. But there is a reason. Indicating too many dollars have been made and not enough of them used in commerce, late last year the Treasury Secretary ordered a halt to their production for circulation. The U.S. Mint can only strike $1 coins in sufficient quantities to meet coin collector demand. As a result, they will not be found at local banks or in everyday pocket change. Today, the U.S. Mint is the only source for newly minted dollars.