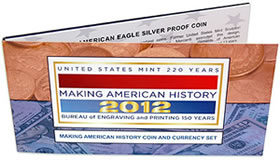 Sales of the Making American History Coin and Currency Set have reached 33,878, the latest sales figures from the United States Mint reveal.
The sales period is from its release on August 7, 2012 through to August 27, 2012, or one day shy of three weeks. The level represents 67.8% of the initial 50,000 production and 33.9% of the possible 100,000 units that could be sold — the maximum is the amount listed on the set's product page located on the United States Mint website.
As with most newly released products, demand was strongest for the Making American History Coin and Currency Set during its first few days of availability. Coin and money collectors snapped up 24,130 shortly before the one-week mark was hit. Another 6,769 were added during its next full week of sales. The latest weekly increase amounts to 2,979.
Included within the Coin and Currency Set is a 2012-S Proof American Silver Eagle and a unique Series 2009 Lincoln $5 bill that has a starting serial number of '150'. The set is a joint United States Mint and Bureau of Engraving and Printing product, with its creation meant to celebrate the U.S. Mint's 220 years of service and the BEP's 150th anniversary.
Buyers can purchase the set directly from the U.S. Mint website at http://www.usmint.gov or by calling the bureau directly at 1-800-USA-MINT (872-6468). Hearing- and speech-impaired customers may order by calling 1-888-321-MINT (6468).
Pricing for the Coin and Currency Set is $72.95. There are no household ordering limits in place. The Mint indicates new orders will ship in one to two weeks, but most collectors are reporting shorter shipment times. The U.S. Mint does charge a standard handling and shipping charge of $4.95 for domestic orders.