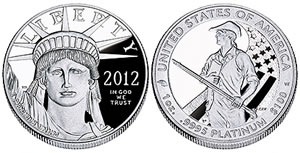 There is nothing lackadaisical about August at the United States Mint. Seven numismatic release dates with 17 products are scheduled. They include 2012 America the Beautiful Quarters, 2012 American Eagles, and the third 2012 Presidential $1 Coin.
Of the 17 products, only one will feature a new coin design. Mint marks, finishes, or pairings are what differentiates this month's products from those issued earlier this year. The one new design appears on the 2012-W Proof American Platinum Eagle.
Below is a table showing each of the new product launches. Brief product descriptions and their expected prices, linked to the release dates, are listed immediately afterwards.
August US Mint Product Schedule
*Product schedule dates are subject to change.
When the day arrives that the United States Mint launches new products, orders are accepted starting at 12:00 PM (noon) Eastern Time. Purchases can be made directly at the US Mint's website at http://www.usmint.gov/ or by phone at the toll-free number 1-800-USA-MINT (872-6468).
Below are the summaries with estimated prices of the US Mint August 2012 product releases:
08.02.2012 – 2012-W Uncirculated American Silver Eagles
Coin Category: American Eagle Coins | Opening Price: $45.95
One of the most popular products this month will be the 2012-WUncirculated American Silver Eagle from West Point. Eagles have a strong following, and although this silver strike will be the fifth different silver one for the year, its sales expectations are in the 200,000 range. Initial pricing will be $45.95, the same as last year's issue, but it is subject to change due to its one troy ounce of 99.9% silver purity.
08.07.2012 – Making American History Coin & Currency Set
Category: Special Collectibles | Opening Price: $72.95
A 2012-S Proof American Silver Eagle and a Series 2009 $5 Lincoln bill with a serial number starting with "150" are the coin and the currency displayed in this historical anniversary set. The two products will be mounted on a durable folder containing descriptions of the United States Mint's 220 years and the Bureau of Engraving and Printing's 150th anniversary.
08.09.2012 – 2012-W Proof American Platinum Eagle
Coin Category: American Eagle Coins | Opening Price: TBD
As the fourth issue in the "Preamble Series," the 2012-W Proof American Platinum Eagle sports a reverse design of a minuteman from the Revolutionary War who is holding a rifle in one hand and a book in the other. The book represents the importance of knowledge required to defend a nation and minuteman represents the protection and defense of the country's early years. This coin is limited to 15,000 units and will have an initial household ordering limit of five. Its price will depend on the London Fix weekly average price of platinum. If the weekly average stays between $1,350.00 and $1, 449.99 an ounce then the new Platinum Eagles will be marked $1,692.95 each.
08.09.2012 – Bags and Rolls of Circulating Quality Acadia National Park Quarters
Coin Category: America the Beautiful Quarters | Opening Price: $18.95 & $34.95
Also on August 9, quarters that are minted at the U.S. Mint facility in San Francisco — that will not enter circulation like the Philadelphia and Denver strikes, will be offered to numismatists with the Acadia National Park reverse designs. These legal tender coins bearing the "S" mint mark will be in circulation quality and will be sold in 40-coin rolls and in 100-coin bags. Mintages will depend on collector demand.
08.13.2012 – Acadia National Park 5 Ounce Silver Uncirculated Coin
Category: National Park 5 oz Silver Coins | Opening Price: $204.95
The third 2012-dated America the Beautiful 5 Oz. Silver Uncirculated Coin gets released on August 13 for $204.95, the same price as the other releases this year. It is the Acadia National Park 5 Oz Silver Uncirculated Coin, composed of 99.9% silver, and it honors the park located in Maine. The bullion version is marketed to investors, but this new issue is specially made for collectors, so it has the "P" mint mark and comes neatly packaged in a presentation box with a Certificate of Authenticity.
08.16.2012 – Benjamin Harrison Presidential $1 Coin Rolls, Bags, and Boxes
Coin Category: Presidential Dollars | Opening Price: $32.95; $111.95; $275.95; & $550.95
A total of eight products featuring President Harrison will be released on August 16. Buyers will have the choice of Benjamin Harrison Presidential $1 Coins produced in either Philadelphia or Denver. Since the circulation quality dollars are no longer produced in massive quantities for public commerce, ordering these products directly from the Mint is the easiest way for collectors to continue accumulating issues in the series. The Harrison dollars will be offered in 25-coin rolls for $32.95; 100-coin bags for $111.95; 250-coin boxes for $275.95; and 500-coin boxes for $550.95.
08.27.2012 – Hawaii Volcanoes National Park Quarters Bags & Rolls
Coin Category: America the Beautiful Quarters | Opening Price: $32.95 & $34.95
The United States Mint is launching Hawaii Volcanoes National Park Quarters, honoring the park located on the big island of Hawaii, in bags and rolls in August — the same day the Federal Reserve Bank system is releasing them into public circulation. These strikes are the fourth this year and the 14th in the America the Beautiful Quarters Program. Three options include 100-coin bags from either Philadelphia or Denver for $34.95 each or the two-roll set that features a 40-quarter roll from each mint facility, totaling 80 coins for $32.95.