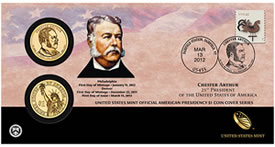 Today, April 9, 2012, the United States Mint started accepting orders for the Chester Arthur Presidential Dollar Coin Cover. The collectible product may be purchased for $19.95 directly from the U.S. Mint website at http://catalog.usmint.gov/.
The Chester Arthur $1 Coin Cover is the 21st release in the American Presidency $1 Coin Cover Series, a series which has maintained a solid level of collector support since its debut in 2007.
Interestingly, while other Presidential products saw price reductions this year, Presidential Dollar Coin Covers did not. Prices have remained unchanged since last year when they increase $5 from the previous year.
One aspect that has supported sales in the series is the extended availability of each cover. The U.S. Mint often stops selling an older product within a series when the latest one is released. That has not been the case with the coin covers as the first release going back to 2009 is still available, and notably at its debuting $14.95 price.
In returning specifically to the level of support the series has enjoyed, the following grid offers the latest sales figures for those still being sold. These sales are as of Monday, April 2, 2012.
Latest Presidential $1 Coin Cover Sales

 
Release Date
Current Price
Latest
Sales
William Henry Harrison
March 17, 2009
$14.95
30,027
John Tyler
July 2, 2009
26,742
James K. Polk
October 1, 2009
24,988
Zachary Taylor
December 30, 2009
23,946
Millard Fillmore
April 2, 2010
$15.95
22,789
Franklin Pierce
July 1, 2010
21,183
James Buchanan
September 30, 2010
19,913
Abraham Lincoln
December 30, 2010
33,367
Andrew Johnson
March 31, 2011
$19.95
18,240
Ulysses S. Grant
June 29, 2011
18,269
Rutherford B. Hayes
October 4, 2011
16,186
James Garfield
December 29, 2011
14,910
Each dollar coin cover includes two Presidential $1 coins from the first day of production — one from the Philadelphia Mint and the other from the Denver Mint. Both coins come mounted within a display card that features a portrait of the respective President honored.
Upcoming 2012 covers will include $1 coins honoring Grover Cleveland — his first and second term — and Benjamin Harrison.