The Mexican Libertad Silver Bullion Coin can trace its start back to 1982, but the facility responsible for striking it goes back much further.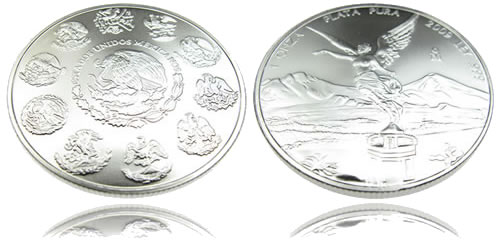 In fact, the Casa de Moneda de México (Mexican Mint) is the oldest minting facility in America. It was established in 1535 by the Viceroy Antonio de Mendoza who was ordered to create the minting facility in the Spanish colony by the Spanish Crown. It has continued since then to create some of the most desirable gold and silver products in the world.
One of these products is the Mexican Libertad Silver Bullion Coin which, as stated before, debuted in 1982. Since that introduction, literally millions of the coins have been bought by investors and collectors to add to their portfolios and their collections.
Shown on the reverse of the silver Mexican Libertad is the Mexico Coat of Arms which depicts an eagle battling a snake. The Coat of Arms is surrounded by a wreath and the words "ESTADOS UNIDOS MEXICANOS". Surrounding all of that are ten more smaller eagle designs which have been used as the emblem of Mexico over the years since 16th century.
The obverse shows a winged Victoria (goddess of victory) which is depicted on top of the Mexican Independence Victory Column found in downtown Mexico City. The column was built to celebrate centennial of the beginning of the Mexican War of Independence. In the background are the hills which surround Mexico City.
The Mexican Libertad Silver Bullion Coin was originally available in only the one ounce size. However, that changed in 1991. Since then, the coins have been produced in 5 oz, 2 oz, 1 oz, 1/2 oz, 1/4 oz, 1/10 oz, and 1/20 oz and even, at times, a 1 kilogram coin. The coins were also slightly redesigned in 1996 to make them more attractive according to the Mexican Mint.