The Canadian Maple Leaf Silver Bullion Coin was first offered by the Royal Canadian Mint in 1988. Its appearance was brought about through the popularity of the Gold Maple Leaf which appeared several years earlier and proved to be a favorite among collectors and investors.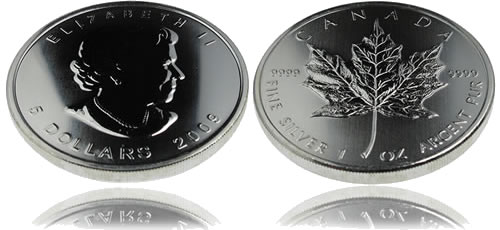 Thus, the Royal Canadian Mint opted to offer a similar product from the more affordable precious metal silver. It followed the same basic elements seen in its gold product including being struck from an extremely pure composition of the metal – this time 99.99% silver. It also included the same basic design elements as seen on the gold coin.
This includes a reverse showing an image of a maple leaf from which the coin series takes their names. Surrounding the leaf are inscriptions of CANADA and 9999 FINE SILVER 1 OZ ARGENT PUR.
The obverse, since its introduction, has shown a portrait of Queen Elizabeth II of England. This is required of legal tender strikes of Canada, of which this Maple Leaf is a part of. Each coin is struck with a face value of $5 and also shows the inscriptions of ELIZABETH II, 5 DOLLARS and the year of minting on the obverse.
The $5 face value is the largest face value shown on any comparable silver bullion coin in the world. However, aside from that face value, the Government of Canada also guarantees each coins weight and purity adding another level of protection for those that purchase the coins.
However, investors typically do not purchase these coins for either their face value or the government guarantee. Typically, these strikes are purchased solely for the content of the metal contained within them. This is referred to as the coin's melt value, and in the case of these strikes, is approximately equal to one ounce of silver on the market. Thus, if silver is currently trading at $25, these Silver Maple Leafs have an approximate melt value equal to that amount.